Now you can purchase 3D models in STL format for carving on your CNC machine!
These models can be combined end to end or top to bottom and even scaled (within limits) to create a wide range of carvings for your projects.
3D CNC Wicker Model Set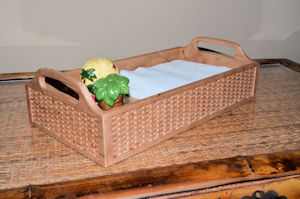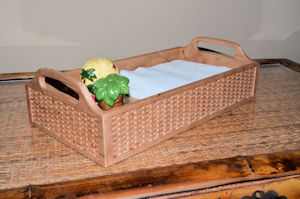 3D CNC Wicker Model Set
A CNC carving set of 3D models in STL format. This set includes six sizes of 1/4" wide "wicker", and six sizes of 1/8" wide:
1x4", 1x6", 1x12", 2x4", 2x6", 2x12".
These CNC carving models can be combined side to side or top to bottom, and scaled (within limits) to create wicker patterns for a wide range of projects.
A 1/16" ball nosed bit with a stepover of 0.010" is recommended for best results.
BONUS: This CNC carving set also includes STL models for the end and side parts of the tray shown.
Please read and understand the license agreement below before buying.
3D Model "Plain Language" License Agreement
These 3D models represent experience, work and effort on my part. I make part of my living by selling them. I ask that you respect that and the value that they represent to me. If people 'pirate' digital files, then those of us producing them will simply stop doing so, and everyone loses.
Purchasing this 3D model package indicates your agreement to the following conditions:
You may create physical items from these files for your own use.
You may sell physical items created from these files, and do not need prior permission to do so; you have it.
You may combine, scale and alter the digital models as needed for your projects.
You may not give away or sell digital products containing these models, parts of these models or new models derived from these without prior written permission from me. If you want to create your own digital products to sell based on my designs, please ask. I will be glad to consider licensing these models to you for a reasonable percentage of sales.
You may sell the original model package you purchased, provided that any and all copies of those models, including any models or files you created from them, are transferred in their entirety from all of your devices to the individual purchasing the original model package, and that you do not retain any models or related files.
If you have any questions, please reach out to me at rbagnall@consultingwoodworker.com.
Thank you,
Ralph Bagnall